Roof Hugger Retrofit Sub-Purlins are zee-shaped structural members that are typically 10 to 12 feet in length. They are made from 16 Ga., 0.060" Min., 50 KSI structural grade G-90 galvanized steel and specifically notched to fit over the ribs of the existing metal roof panels. This factory notching provides a correct "structure to structure" connection with the least possible increase in assembly height.
We mass produce some products as shown above and custom fab parts for non-standard conditions IE: taller parts for more insulation, special panel rib spacing, special size flanges, special gauges, venting holes and more.
Attention Roof Hugger Customers,
Please take note that with the uncertainty of steel costs, pricing will be good for a period of 10 days from the quote date and subject to review thereafter, please qualify your proposals to reflect these limits.
Roof Hugger is still committed to providing the best customer service and product quality as we have always been known. If you have any questions or concerns please do not hesitate contact us.
Thank you for your continued support
1.83" tall Model "C" for typical 12" on center rib PBR or other custom sizes for 6"-12" o.c. ribbed panels.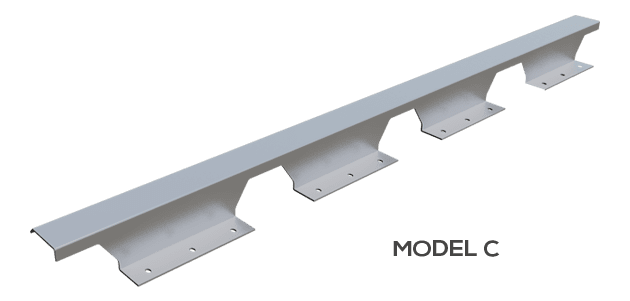 4.5"tall Model "D" for typical 24" on center rib Trapezoidal Standing Seams or other custom sizes for 12"-30" trapezoidal panels.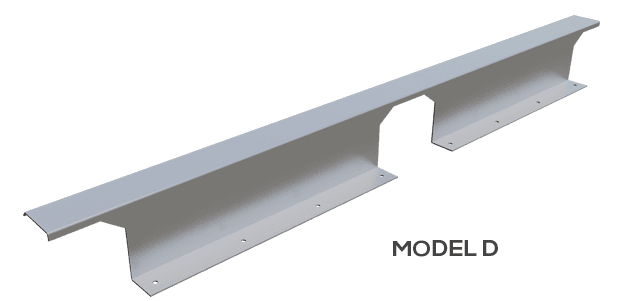 4.5" Tall Model T for typical 24" on center rib trapezoidal standing seam panel mounted on standoff clips or other custom standing seam panel sizes 12" to 30" mounted on standoff clips. This part employs a patented "anti-rotational" arm to stabilize the Roof Hugger Framing System that is attached over compressible insulation materials.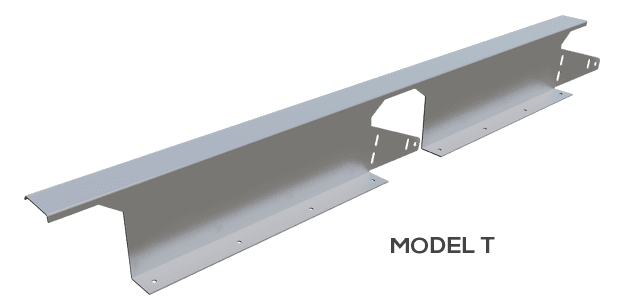 Vertical Rib Standing Seam
2.75 Roof Hugger Sub-Purlin for Vertical Rib Standing Seam Panels typically from 12"-30" o.c. Also available for Vertical Ribs Systems installed with "Standoff Clips".  Custom Sizes Available.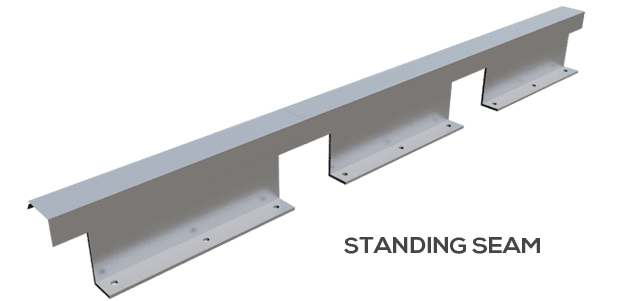 Custom size Roof Hugger Sub-Purlin made to fit any specific corrugation and built to any specified height and flange  (some limitations apply).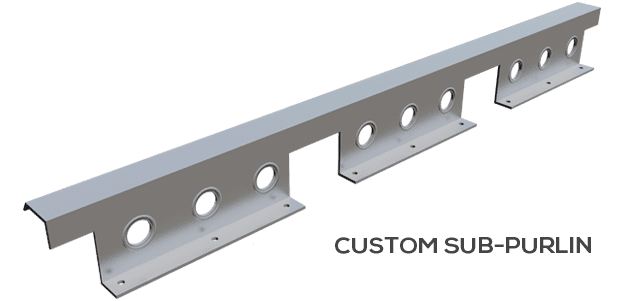 Roof Hugger Sub-Framing Solutions for Any Metal Roof Type
"R" Panel over "r" panel​

The 12" o.c. ribbed "R" Panel is the most common existing panel on older metal buildings. Roof Hugger mass-produces a part that will fit most but not all existing "R" panel roofs. This part is an inventory item ready for immediate shipment. Thermal efficiency can be increased by ventilating the new cavity and/or adding insulation. Taller Huggers can be custom-produced to accommodate any new insulation depth.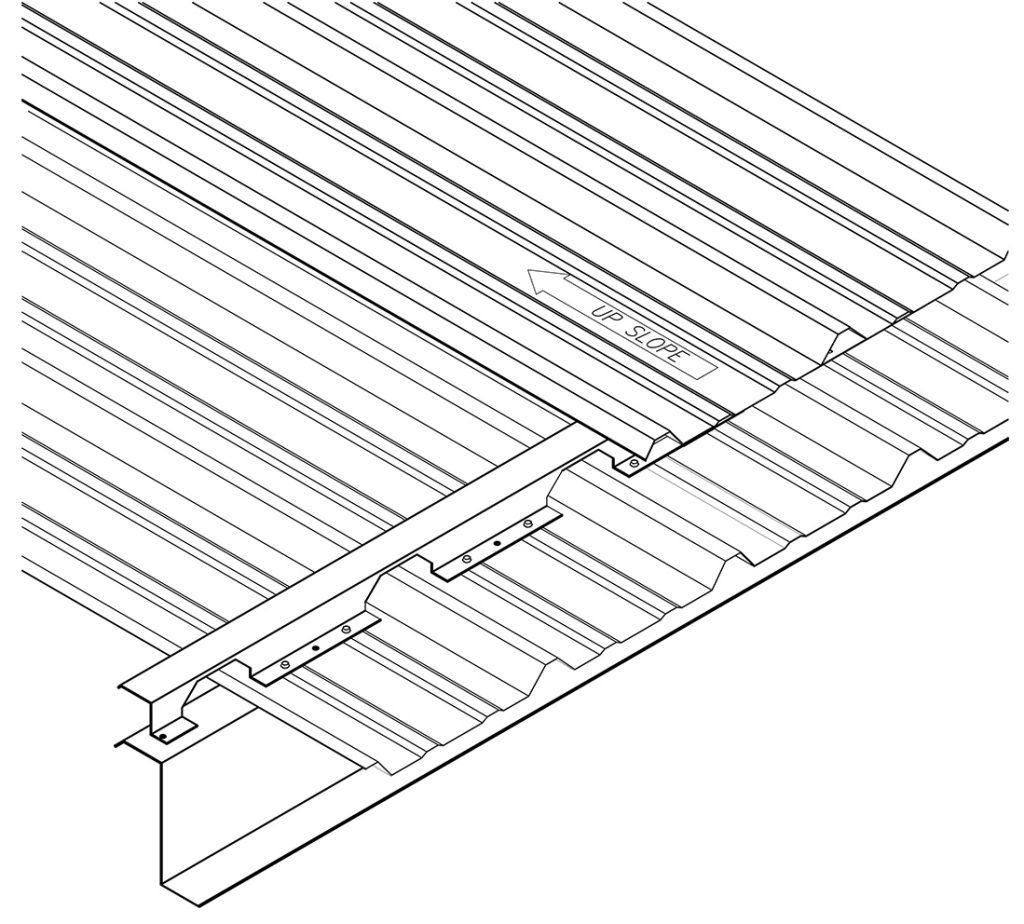 Standing seam over "r" panel

Another typical installation is a new standing seam panel roof installed over an old screw-down roof system. This upgrade eliminates the problems inherent with thru-fastened panels. Leaving the existing roof in place also eliminates the need for major bracing modifications to the existing purlin system to make it suitable for installing a new standing seam roof.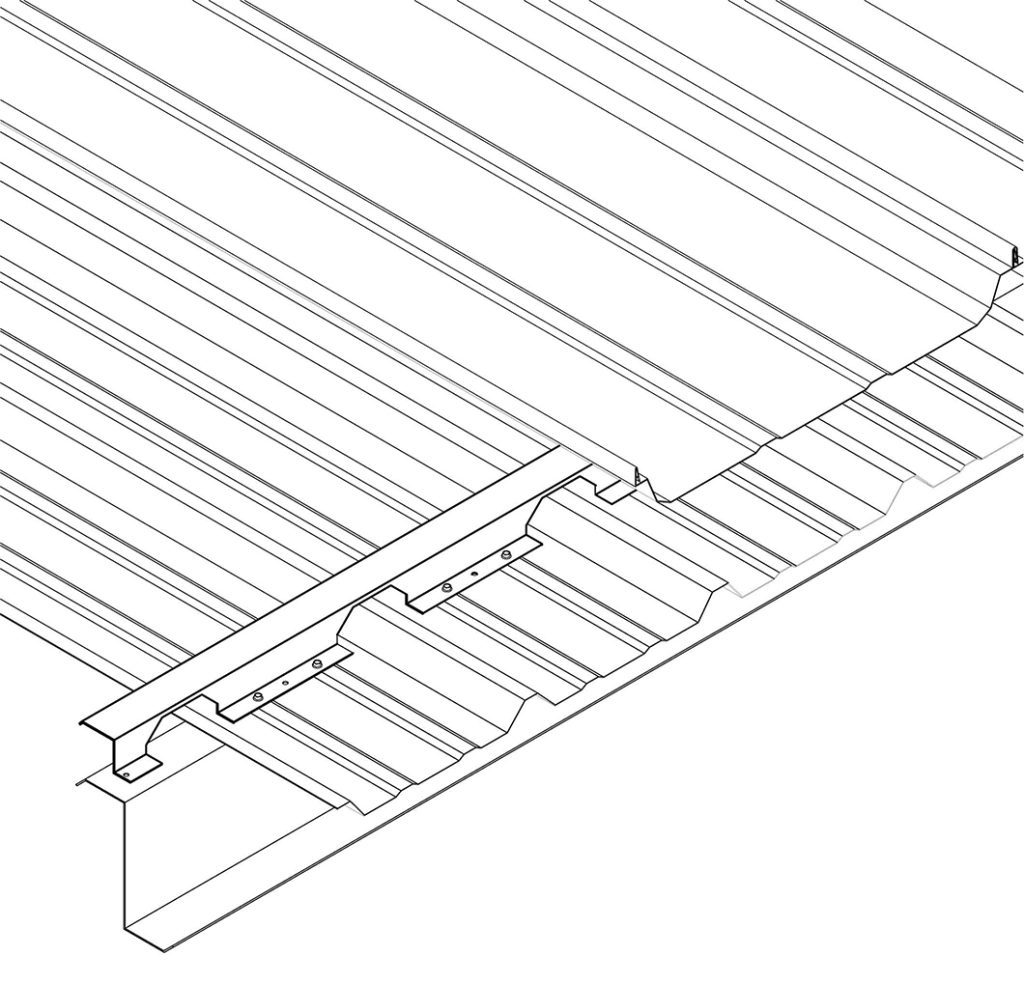 Standing seam over standing seam

Another common installation is a new standing seam panel installed over an existing standing seam roof system. Rib spacings vary from 12" to 30". Roof Hugger can produce a sub-purlin to fit any existing standing seam profile making retrofiting these roofs fast and easy.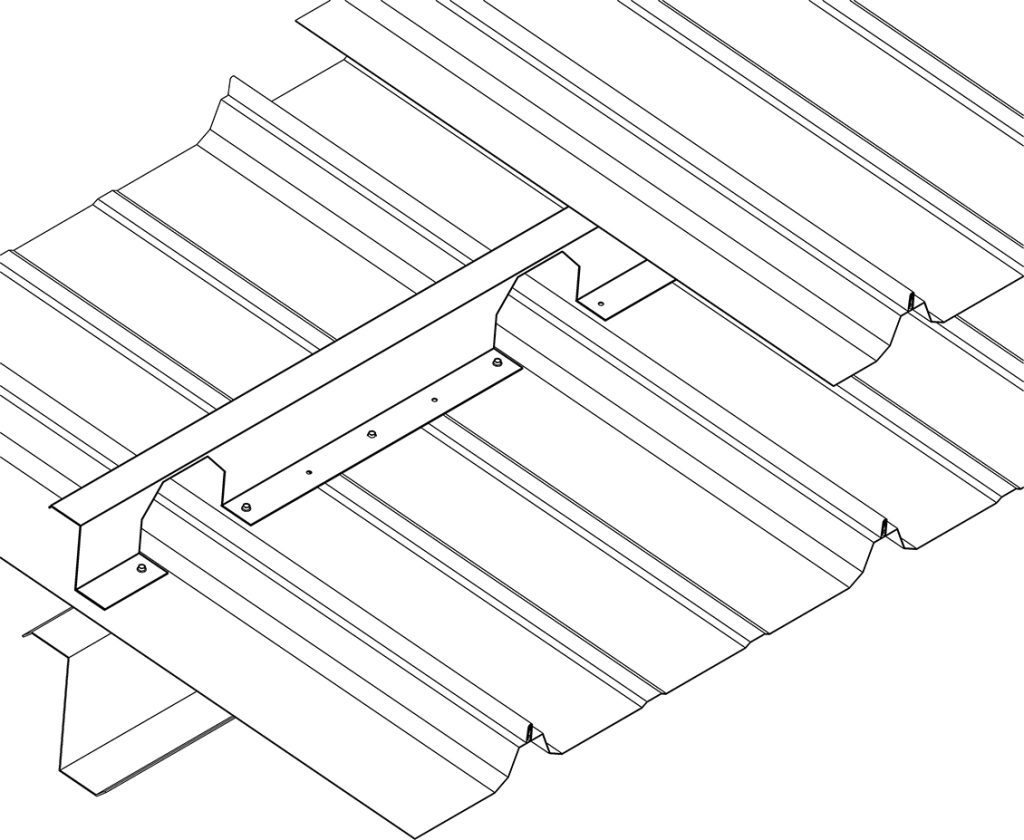 Special Size Roof Huggers are NEVER a Problem
Roof Huggers are made from 16 Ga., 0.060" Min., high strength, 50 KSI galvanized steel and produced by automatic computer controlled punching equipment. This allows us to easily control the fl ange size, opening sizes and fastener spacing.
All dimensions can be specified individually to suit project needs.
If you have a special condition such as adding a specific depth of rigid or fiberglass insulation; or a larger top flange for a special panel clip… just let us know, we can produce exactly what you need!
Typically, the Huggers are over cut 3/4" to 1" wider and about 3/8"
to 1" taller than the existing ribs to allow for some "run-out" of the
existing panel. Some panels however may need more clearance.
Roof Hugger recommends that you measure the existing panels over
a 10' to 20' distance to confi rm the actual "In-Place" module of the
existing roof panel ribs to insure an accurate part fi t. We will provide
job information forms to make measuring easy.
Roof Huggers are typically shipped in 10' to 12' lengths, as based on existing panel rib spacing.  Longer lengths may be available upon request.
Removing "Lean-To" Steps Made Easy
You can use TWO DIFFERENT SIZE Roof Huggers to remove troublesome roof steps created when a "lean-to" was added to an existing building. No more awkward flashings and closures.  No more leaks and a beautiful roof, ALL ON ONE PLANE!  In the photo to the right, a 2" roof step was removed using 4-1/2" and 6-1/2" Roof Huggers.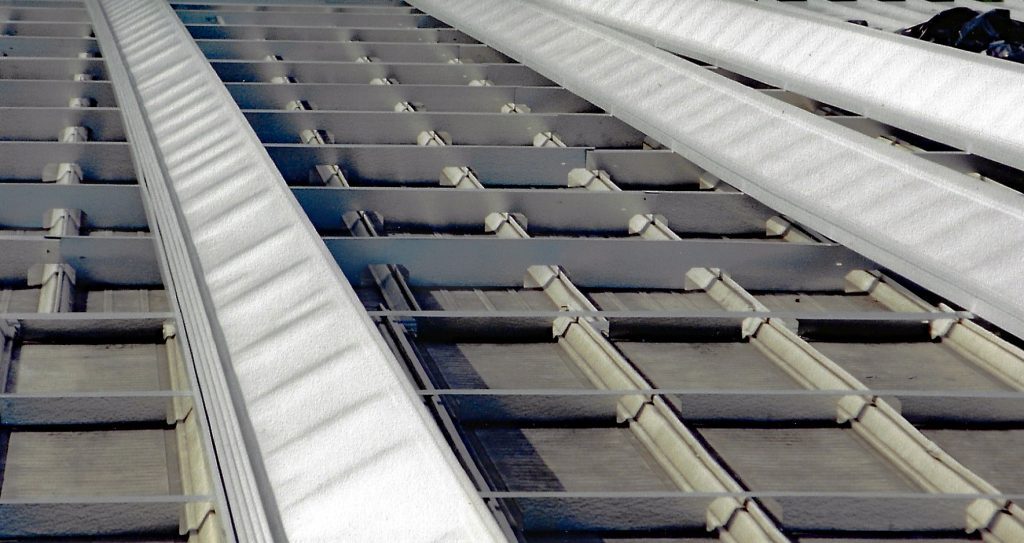 Sub-Framing Solutions for Existing Corrugated Metal Roofs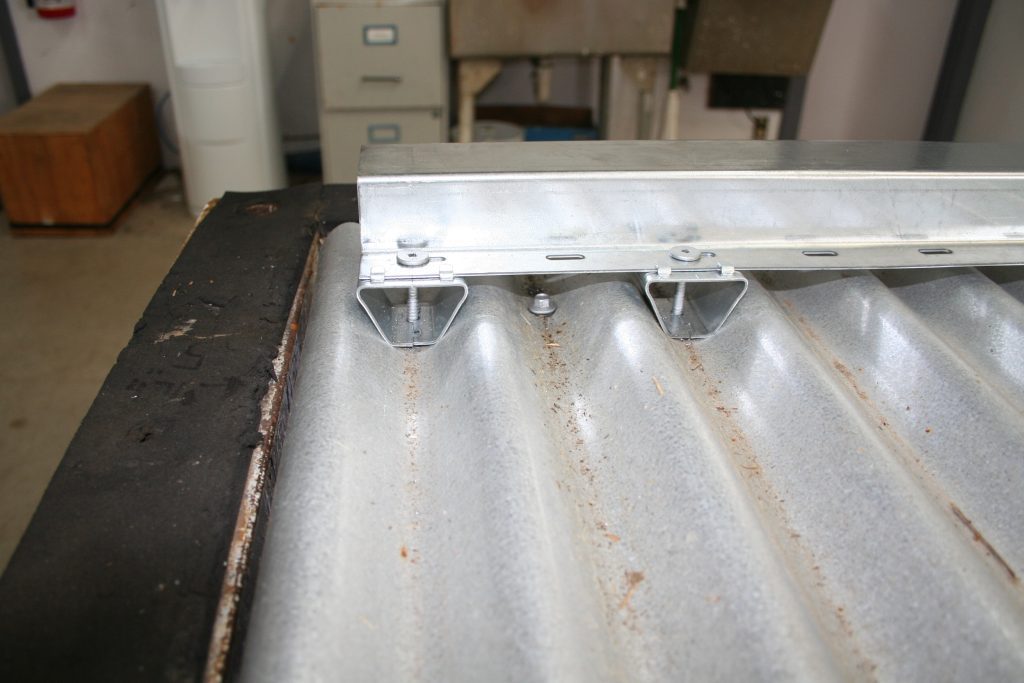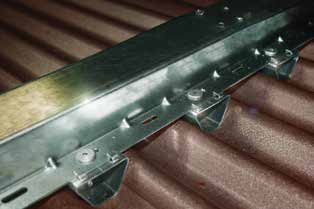 There are countless old corrugated roofs out there with 2.5", 2.67", 2.75" and 4.25" rib spacing as well as other ribbed type panels such as the 7.2 Industrial Rib roof panel. These roofs are commonly problematic because the rib spacing is typically inconsistent, thus not permitting a standard factory-notched Hugger sub-purlin to be used. With our CORRU-FIT sub-framing system, these roofs are easily retrofitted using a structural "Spacer" that is installed in the "Valley" of the corrugation or lowest part (pan) in order to receive a factory-slotted zee-shaped purlin. The best part is, only one special fastener is used to secure both the Spacer and the purlin to the existing roof purlin.
Height of the Spacer is subject to the depth of the existing roof panel rib. The Spacers are installed at intervals based on design requirements to meet wind uplift loads. All components of the system are made of structural grade, G-90 Galvanized steel. The special fastener is included with the system. CORRU-FIT has been laboratory tested for ASTM E-1592 wind uplift resistance.
Our hat sections are structural grade framing members that can be used in a multitude of applications. They are used in some of our Metal-over-Metal applications when the new metal roof system requires additional framing at the roof's corner and edge zones.
Lengths available from 6 to 21 feet
2-inch wide top flanges
Available in five heights from 1-1/8" to 4-1/8"
Roll-formed, structural grade, 16-Ga., 0.060" Min., 50 KSI, G-90 galvanized steel.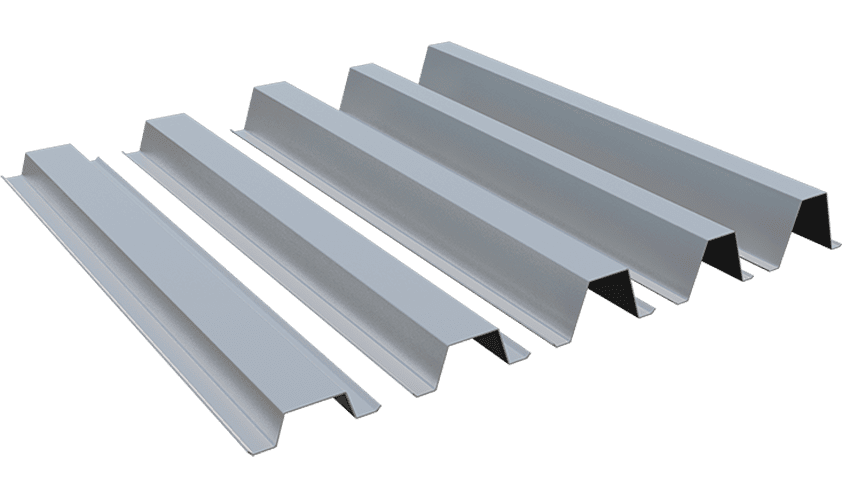 Special Construction Solutions
Typically the existing fasteners can remain. Most "R" panel roofs are installed with the fastener near the high rib of the panel. Even though the Roof Hugger may rest upon this fastener it will bend the base flange but not create a problem. Larger headed fasteners located in the center of the existing sheet pan can cause the Huggers' to roll or porpoise and those fasteners would need to be removed.
Standing Seam Roofs with Standoff Clips and Thermal Blocks:
Roofs with standoff clips and/or thermal blocking require special Huggers with anti-rotational arms and custom fasteners.  Tell Roof Hugger if you have that condition to assure correct design and pricing.
Roof Hugger has a special patented system to retrofit high-clip standing seam roofs.
These uniquely designed Roof Huggers represent the first and only re-roof sub-framing system specifically engineered to retrofit standing seam roofs originally installed with standoff attachment clips.  The Huggers employ unique fasteners that hold the part firmly on the pan of the existing panel but above the purlin while providing the needed structural attachment. The special patented "Anti-Rotational Arm" prevents the Huggers from pivoting on these fasteners and rolling up or down slope. The perfect solution to a difficult re-roofing project.  This system can also be useful in high snow load areas to help control drag loads on the panels.