To get a quote from our team at Roof Hugger, please fill out the form below, and send it in to us.  We can typically get Component quote back with in 1-2 days, and Engineering quotes could take 2-3 days.
Roof Hugger Quote Request
Thank you for your interest in our metal roof retrofit sub-purlin systems.  We have two convenient ways of requesting a quote.  You can use our online quote form or you can download the forms and use Adobe Acrobat to fill out and submit them.  We look forward to speaking with you soon.  For detailed information on how to correctly fill out our quote form please watch the video.
Component quotes assume the new roof panels can meet all code required loads on the existing purlin spacing.
Ph. 800-771-1711    Fax: 877-202-2254
Email: sales@roofhugger.com
Online Quote Request Form
Downloadable Quote Request Froms
Our Job Information Form and Retrofit Questionnaire use Adobe Acrobat.  If you do not currently have this program please use the download link.
COMPONENT QUOTE – Click below to download our Job Information Form. Just fill in the writeable PDF. Once completed you can send it back to us while using Adobe Reader DC. Click on "File", in the drop down window, select "Share File", then in the window that opens, select "Attach to Email" and then a new email window will open on your device. Now you can send it back to us at sales@roofhugger.com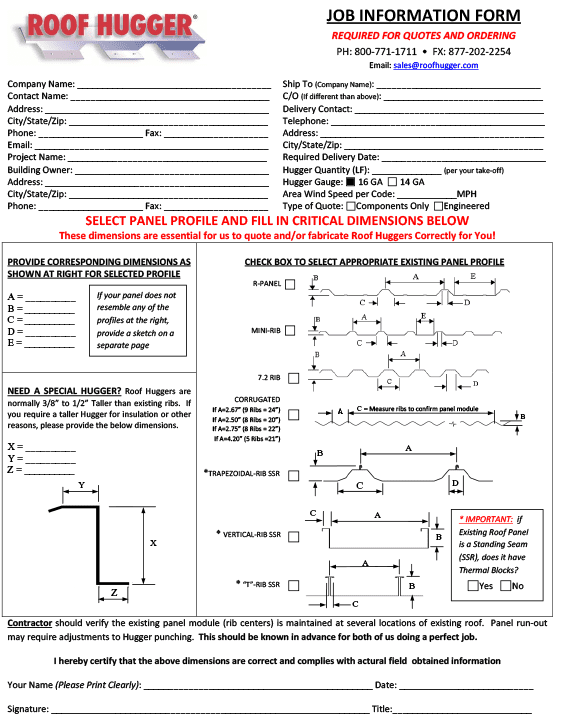 ENGINEERING REQUEST – Click here to download our Retrofit Questionnaire Form. Just fill in the PDF and send it back to us at sales@roofhugger.com