INSTALLATION INSTRUCTIONS
Roof Hugger provides general instructional information to assist in the proper installation of Roof Huggers on projects where new roof panel will meet all local wind, snow and seismic loads at existing purlin spacing. If you have any questions please contact Roof Hugger prior to any installation. If a project requires job specific engineering refer all installation and detail questions to the project engineer.
Please reference our DOWNLOADS page for construction details, specifications, testing, and other usable documents.
HOW MANY LINEAL FEET OF HUGGERS DO YOU NEED?
To determine the lineal footage that you may need, use this simple formula: 
For a given slope, you divide the width of the slope by the spacing of the existing purlins, and be sure to add 1 for the eave strut. Now multiply that by the length of the eave, and that will give you the lineal footage for that side of the building.
 If it's a mono slope you're all set, if it's a gable, you usually can double your answer, however always double check the other sides purlin count.
All other roofs, it's time to get some paper and draw it out.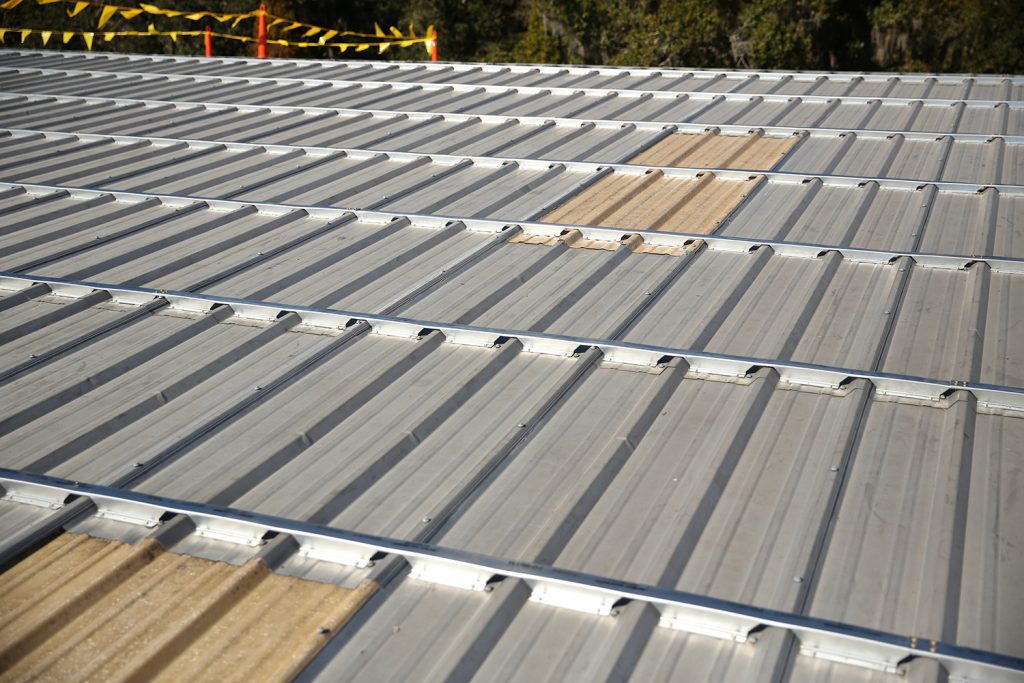 DO YOU NEED ENGINEERING INCLUDED IN YOUR QUOTE?
If you are bidding a metal roof retrofit, and you're not sure if you need to include engineering in the quote, here are a few building situations and locations that will let you know to include engineering.
In the state of Florida, engineering is required on all new metal roofs. Around the country engineering is usually required with all state and local government owned buildings, all schools, military installations, buildings located near open water, or high wind hurricane or tornado zones. Engineering can be required in areas with heavy snow loads too.
Roof Hugger will estimate the wind and snow loads for your project at no charge, if requested. Our proposal will include the material we think is needed to comply with the current building codes. We are not an engineering firm, our third-party engineer handles all finished designs, and our estimated design and pricing will be subject to final engineering review.
THE DO'S AND DON'TS OF RETROFIT ROOFING
There are a number of ways that existing metal roofs have been and still are being retrofitted. Many of these methods cannot be considered structurally correct sub-framing systems. They lack the ability to withstand wind uplift and therefore are subject to failure. Roof Hugger sub-framing systems have been installed on over 100 million square feet of existing metal roofs and continue to be installed on approximately 6 million square feet annually. Our systems have withstood hurricane force wind loads from Katrina, Ike and others without a single failure. This is a testament to our systems that they are safe and structurally correct. This is the primary reason why Roof Hugger is the most specified metal-over-metal sub-framing systems by building owners nationwide including federal and state governments, the military and schools. Below are some of the other methods which we have listed their challenges.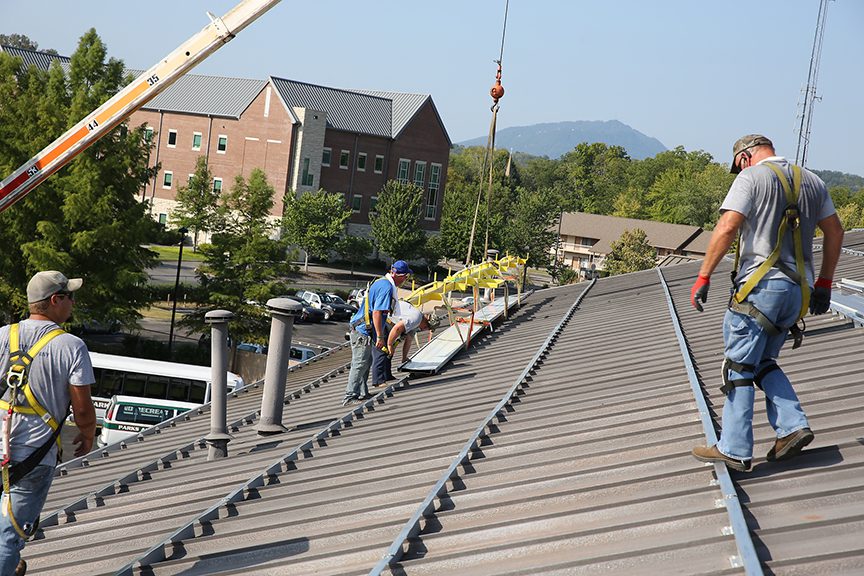 Roof Hugger Animated Installation Video
This video, of course, is an Artist's rendered view of how simple Roof Huggers are installed. It illustrates the sequence of installation from installing our sub-rafters that are commonly included for wind uplift conditions in the corners and edges of the roof. These are not always required, but Roof Hugger will determine their need based on a preliminary design using your chosen new roof system's E1592 test results. Then the eave Hugger is installed working your way up slope to the primary Huggers over the existing purlins and adding intermediate Huggers between the existing purlins. Our sub-rafters allow these intermediate Huggers to securely fasten to the new roof's sub-framing system and satisfy building code required wind requirements. Insulation is installed during the new roof installation process if the building owner and roofing contractor chooses to include it. Installation of a Roof Hugger Metal-over-Metal Retrofit sub-framing system is Safe and Easy to understand.
E 1592 wind uplift testing over roof hugger sub-purlins
A short video to illustrate the negative pressure testing of a 16″ wide x 2″ tall vertical rib standing seam roof installed over Hugger sub-purlins attached to a simulated existing 12-inch O.C. "R" or PBR-Panel metal roof.
Video Location: Force Engineering & Testing Laboratories in Humble, Texas
Roof Hugger stands ready to discuss your metal over metal retrofit project and the design process.  If at any point during the design process or the installation process you have a question or concern reach out to us.  Our goal is to make sure you do not run into any problems from design to installation.
You can contact us via email: sales@roofhugger.com
Or call us at Call us at +1800-771-1711">1-800-771-1711.